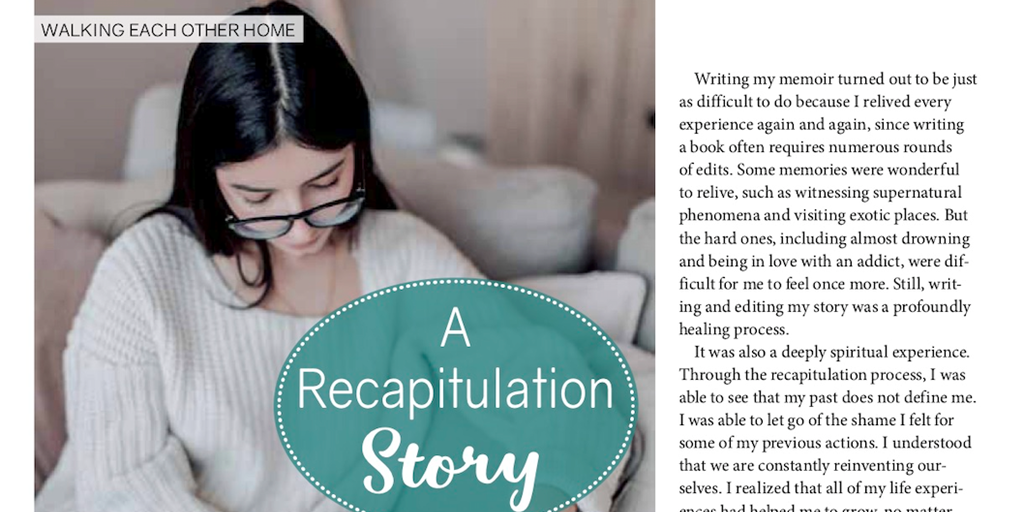 Published in Natural Awakening Atlanta for the column Walking Each Other Home, January 2022
As a teenager, my journal was my best friend. I could trust it and tell it anything, knowing that my secrets would never be shared. I used my journal to work through my life problems. I consoled in it when I was sad or just happy to share something. I have been journaling ever since. It is perhaps the greatest tool that I use in my adulthood today.
Later in life, I read a Carlos Casteneda book that taught me about the shamanic method of recapitulation. The naguals of Mexico believe that in recapitulation you can retrieve energy you left behind in an experience and leave behind the energy you took with you from it. For them, it is a very healing process that must be completed before becoming a Nagual (shaman). It could take several years. The Nagual's apprentice would have to recall every detail of their life in the recapitulation process, before moving forward in their training.
I had wanted to write a memoir for a long time. Many years of journaling showed me that I had a story to tell. I knew that the recapitulation process would help me to write my memoir because I would have to remember everything that had ever happened to me. I realized that it would help me to work through painful events from my past, allowing me the courage to be able to share them later. I believed my stories could be an inspiration to others on their spiritual path.
It took years before I found the will or the courage to start that process. And I declared that I would not write my memoir until I had first written my story for myself. When I finally began, the recapitulation process was nothing like journaling. It took me to a much deeper place of reliving my life than I ever could have imagined. It was a very difficult process. Remembering the painful times was intense. But it was also joyful and inspiring to remember the beautiful times. It took me ten years to recapitulate most of my life story.
 After that, writing the memoir was just as difficult because I relived every experience again in the editing. Then I relived it again and again, as re-editing happens many times in the process of writing a book. Some memories were wonderful to relive, such as witnessing supernatural phenomena and visiting exotic places. But the hard ones, like almost drowning and being in love with an addict, were difficult for me to feel again. Though it was a very hard project, writing and editing my story was a profoundly healing process.
It was also a deeply spiritual experience. Through the recapitulation process, I was able to see that my past does not define me. It allowed me to let go of the shame that I felt for previous behaviors. I understood that we are constantly reinventing ourselves. I realized that all of my life experiences had helped me to grow, no matter how hard they were. It allowed me to have no regrets for my past.
Through my recapitulation, I realized what the naguals of Mexico understood. That to re-examine my life, and to be unafraid to look at my traumas, allowed for essential healing from my past. And reliving the lovely moments showed me just how special my life had been. I understood that every experience has led me to who I am and every challenge has helped me to be a better person. I could have gratitude for everything that had ever happened to me.
And now as before, journaling continues to assist me in processing emotions and reevaluating life circumstances. It is a powerful tool for me for transformation and self-expression. Knowing that my journal is a safe place for me to say anything gives me the courage to examine my life thoroughly. Journaling helps me to be grateful for all of the beauty and challenges that my life brings.